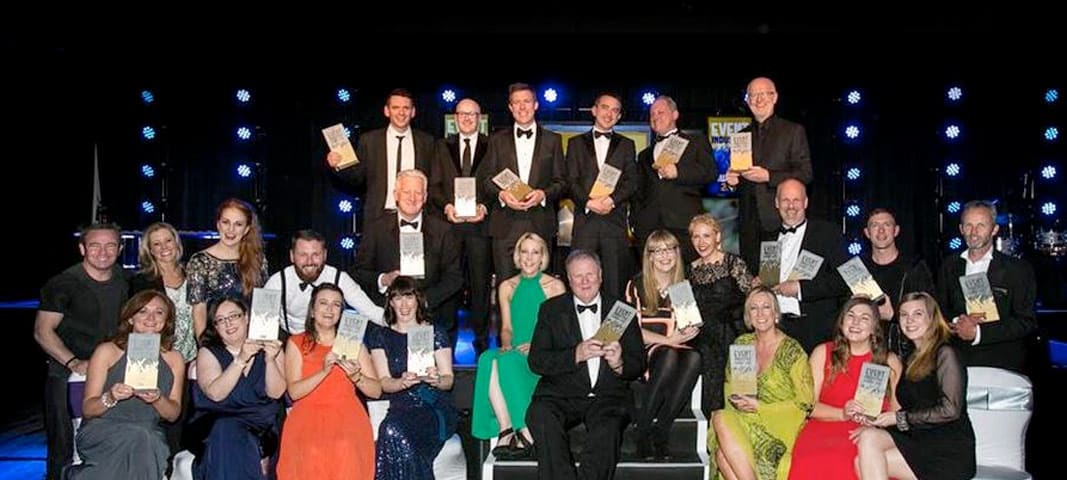 Best Event Management 2015
We've Done It Again – Ireland's Best Event Management Company 2015
We are delighted to announce that we have been named Ireland's Best Event Management company 2015 – the second year in a row to have won this prestigious award.
At the end of last month we arrived at the DoubleTree by Hilton Dublin, Burlington Road ready for what was sure to be a great night.
The cream of Ireland's event sector were recognised and celebrated in front of an audience of over 550 senior executives. Hosted by the hilarious Irish comedian Neil Delamere, 20 prestigious trophies were presented to the very best leaders and organisations within Ireland's event industry.
Incredible Standard
Wish us luck at the @EventIndAwards tonight guys! Sure to be a great night – good luck to everyone #EventAwardsIRL #fingerscrossed #gy15

— @grooveyardevent (@GrooveyardEvent) May 27, 2015
We had been nominated for an amazing 5 awards which was remarkable and really showed the quality of events we had helped create over the previous 12 months. It is a credit to all of our clients, suppliers and staff that we were received so many nominations, especially with the incredible standard of events on show at this years awards. Seeing all the great events that had taken place over the last 12 months was inspiring – well done to everyone! Ireland really is the Event Isle!
Fantastic Event
A fantastic three-course meal and entertainment proceeded the awards ceremony. Superb decor, delicious food and top quality entertainment credit to the Event Industry Awards for producing a wonderful night – even before the winners were announced!
We've done the Double!
Best event management company! #EventAwardsIRL #eventprofs pic.twitter.com/lBtthCLPcV

— Event Industry Association of Ireland (@EIAIreland) May 27, 2015
We were speechless. Winning the Best Event Management Company last year was amazing, but to follow it up with this years award – unbelievable. Best Event Management Company 2015 – An unforgettable double! We just want to say another massive thank you to everyone who contributed to our continued success. Without your work this would not have been possible – thank you.
Congratulations
Congrats to all the winners and nominees at this years awards. The standard of Event Management in this little island of ours is incredible and it is an honour to be a part of it!
Author Info