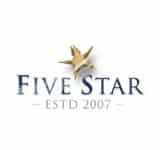 Exciting New Five Star Travel Partnership for Grooveyard Event Management Company
Exciting news for Grooveyard Event Management Company
Grooveyard Event Management are delighted to announce a new five-year partnership with Five Star Travel. This is a great opportunity for Ireland's best event management company, to help showcase Ireland's unique offering to a new International audience.
"With an impressive array of fortune 500 clients, Grooveyard manage large scale conferences, generating significant revenue for 5-star hotels in the UK & Ireland. Also tasked with major celebrations, broadcast events, International rugby & football tours, the Grooveyard's expertise and innovation is consistently in play." Five Star Travel
We are very proud here at Grooveyard to continue to improve and develop. Thank you to all our colleagues, suppliers and customers who continue to help and support us throughout this journey.
Find out more about Grooveyard Conference and Event Management Company's event services including, event management, conference management, themed events, brand activation, destination management, event pr and media and team building.
Author Info