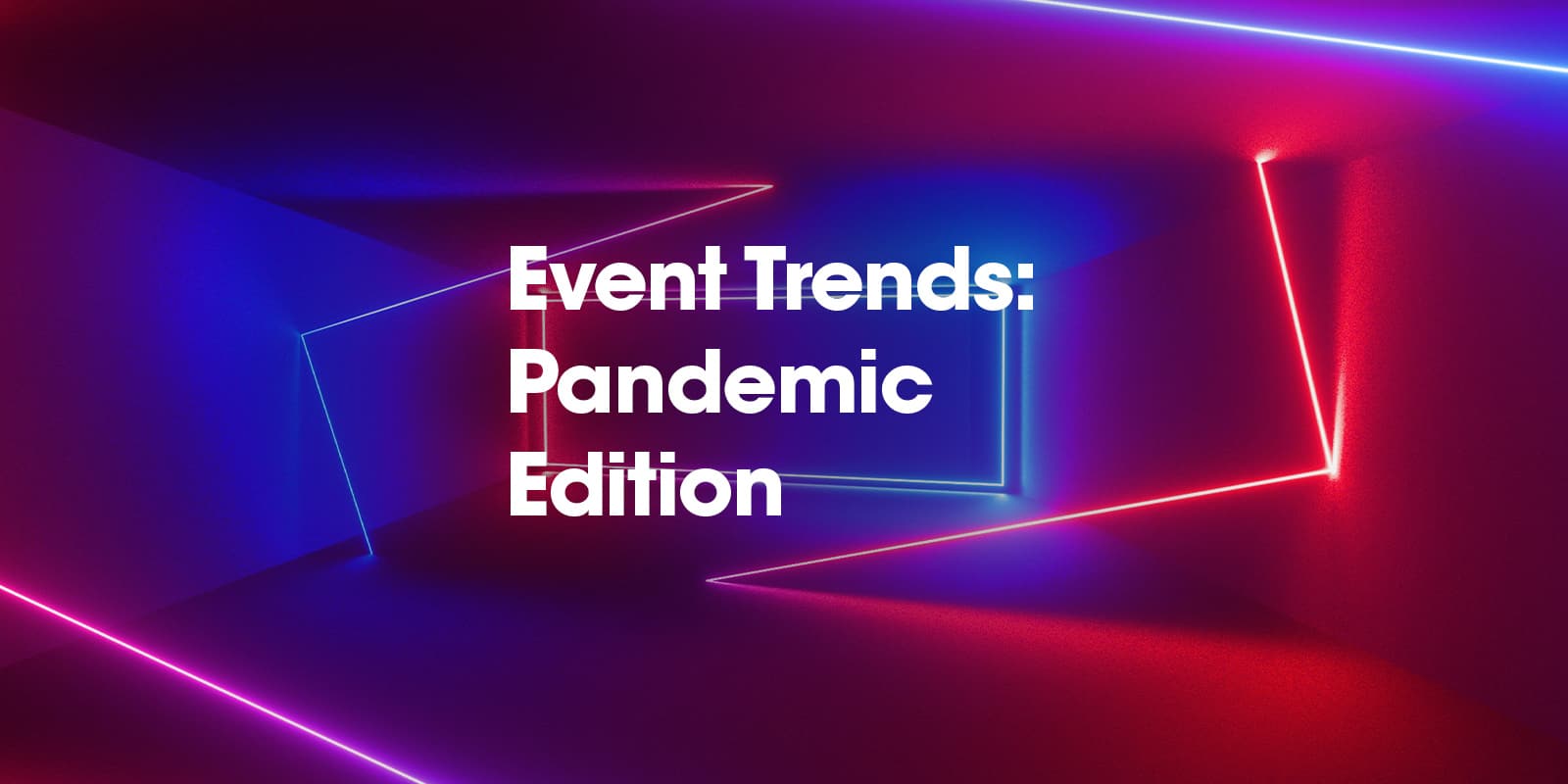 Event Trends: Pandemic Edition
02/10/2020
 To find out how Grooveyard can
manage your virtual event

---
The current pandemic has brought unprecedented losses and challenges for the events industry, that could never have been foreseen this time last year. As in-person events start to take place again, event planners face the task of organizing these mass gatherings with the very real threat of Covid-19 still lingering. With countries starting to open back up, it's time to start thinking about the future of in-person events and what they will look like. Check out the latest event trends below! 
Live musical performances and music festivals are among the best-loved types of events but can be very difficult to plan given the ever-changing guidelines and public health restrictions. The new normal for live events will entail thorough safety measures and will rely heavily on virtual tools, so it's important to prepare accordingly. Below are examples of two events who have / will be implementing Covid19 restrictions and keeping the live event scene alive! 
Virgin Unity Arena, Newcastle Racecourse, UK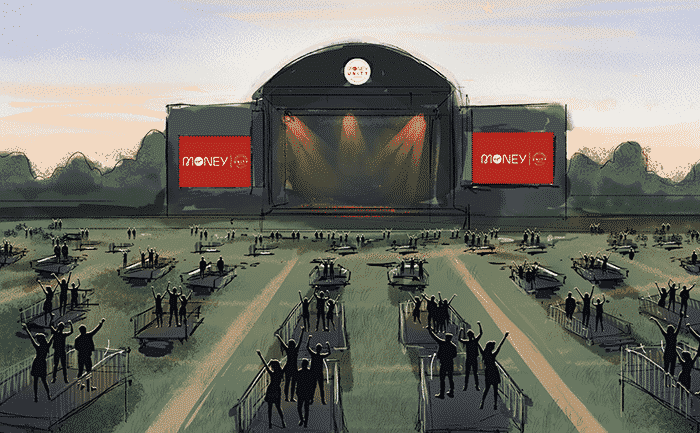 The first on our list of pandemic event trends is at the Virgin Unity Arena Festival. The venue was situated on the grounds of Newcastle's Gosforth Racecourse. A total of 2,500 fans attended and spread out over 500 platforms. Newcastle has a series of concerts planned with the same setup throughout 2020, with artists including The Two Door Cinema Club, Jimmy Carr, Van Morrison, Ronan Keating, Becky Hill & Bill Bailey. 
Fans looked comfortable and happy—or at least more than they typically do when they're crammed into closer seats, at least this time there's not a stranger trying to squeeze past spilling their drink as they go!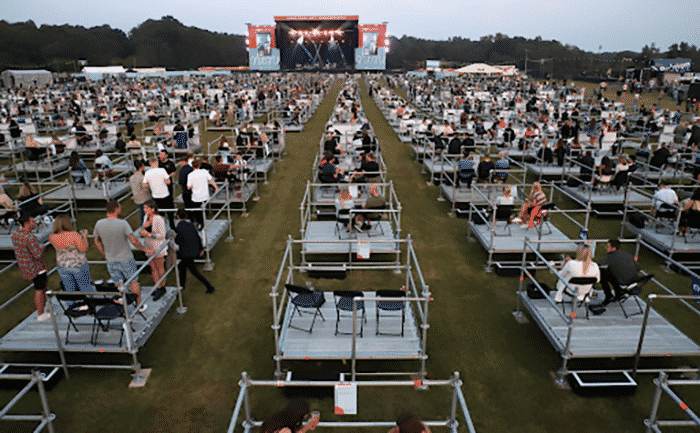 Upon arrival, guests were escorted to their viewing platforms, which were made to accommodate up to six people – the maximum for a social distancing bubble. Platforms were assigned to guests one week in advance via email to deter people queuing on the day trying to get a platform near the front. They were asked not to stand in the aisles between platforms at any time, and to wear masks whenever they left their platform to use the bathroom or buy food/drinks which was monitored closely by security personnel. 
The Virgin Money Unity Arena is an example of the creativity and enterprising spirit of the UK's live industry, which has proposed a number of solutions to the restrictions brought on by Covid-19. While not all outdoor event organisers or venues will be able to replicate the format, the Virgin Money Unity Arena is proof that there is still a strong appetite for live music and events – and that the UK will be raring to go once they can return.
Good Day Sunshine Festival, Barnard Park, Western Australia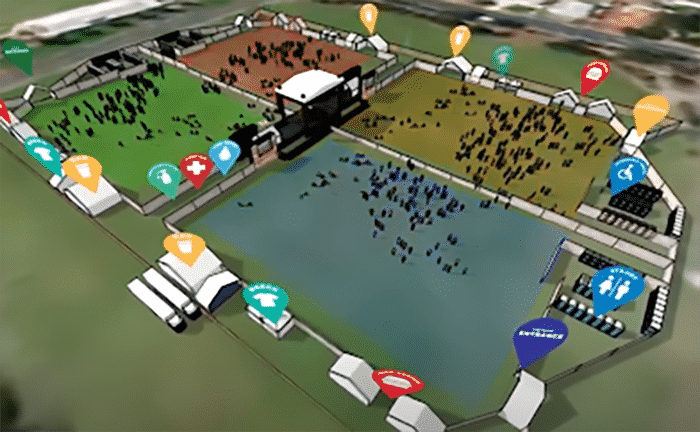 Set to take place on Saturday 31st October in Busselton, Western Australia, Good Day Sunshine Festival features an all star line up all set to perform to a crowd of 5000 fans. Safely spread out thanks to an innovative concept that sees the audience broken up into four quadrants each containing 1250 people, with a central rotating stage, providing everyone with the same viewing experience. The idea of a rotating stage is not a new concept, but it's usually only with bigger artists with larger budgets who are doing world tours or similar. The rotating stage will have a small camera crew filming for display on the screens situated on all sides which will enable the organisers to display the set from various viewpoints. This may very well be how many pandemic event trends will turn out in the future. 
To ensure social distancing there will be separate entrances / exits and separate food and beverage facilities for each area. The extra entries and infrastructure will help from a traffic management point of view, because there won't be one mass exodus through the same gate.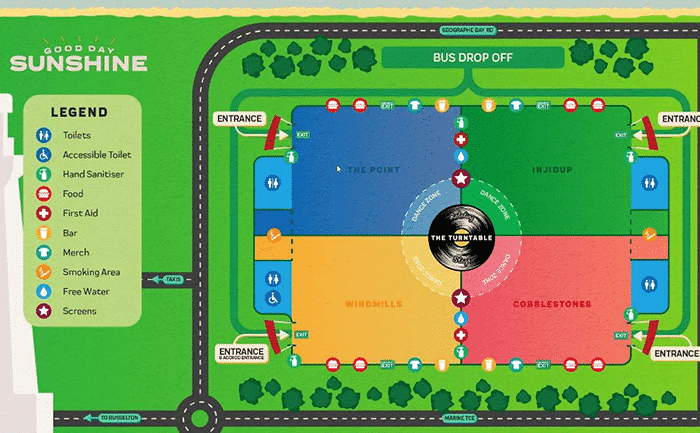 In terms of infrastructure, there is approximately 50% more infrastructure than usual to cater for the new restrictions. For example, 50 metres of bar space will remain the same but it's spread across four separate areas. This area will be the hardest to manage as the various sites are being mirrored to avoid multiple service stations & refrigerators points. The same can be said for the first-aid, given that it's in the middle of the site, operating out to two sections each, and the free drinking water, which have taps operating out of a central point on both sides of the site. 
Although there have been quite a few obstacles, the Western Australia government guidelines such as reducing social distancing from 4sqm to 2sqm per person and the opening up of dancefloors has been a great benefit. The organisers are also encouraging people to bring low-back chairs and blankets and set up their own little social bubbles amongst their friends on the site.Another element which has been carefully thought through is trying to make people feel like they're part of a large event so low fences between the areas have been incorporated, so you will still see people on the other side of the site. 
The above two examples show the endless possibilities available to event professionals and that despite difficult circumstances, government restrictions and the uncertainty of Covid19 that live events are possible during a pandemic! We have our fingers & toes crossed that we will be seeing live events coming to Irish soil very soon!
Stay tuned to The Grooveyard Blog and stay up to date with all the latest event trends. Be sure to check in towards the end of the year to see our 2021 post pandemic event trends. 
Thanks for reading and stay safe out there. 
Author Info